SAFETY LEADERSHIP
Safety Topics
POSTER SERIES – CLICK ON THE LINK
SITUATIONAL AWARENESS SAFE DIALOGUE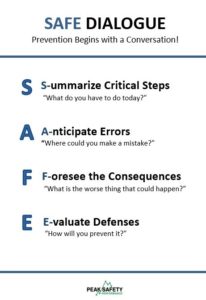 Situational Awareness – You have to know what is going on around you and how it can impact what you are doing.
Understand job steps, potential mistakes, the consequences, and the controls.
Safe work begins with a conversation and questions.
SAFE DIALOGUE promotes a Questioning Attitude:

Questions raise awareness.
Questions help avoid blind spots.
Questions reveal risk.
Questions encourage you correct hazards.
Questions show where things may go wrong.
FOR INFORMATION ON HOW TO IMPLEMENT
A SAFE DIALOGUE PROCESS, CLICK HERE!
SAFETY TOPICS ARE AVAILABLE ON AMAZON.COM.
SAFETY CONSULTING RESOURCES
Performance Improvement Processes