Peak Safety Orientation
Register NOW Online! 
Class Handout Available on Amazon.com.
(For more information, click on the Press Release.)
Universal Tool for Universal Topics – The Peak Safety Orientation pocket sized handbook is designed to supplement the Peak Safety Orientation class.  The resource is also formatted to use as tailgate topics and focused audits.  It will help you recognize the hazards your clients see!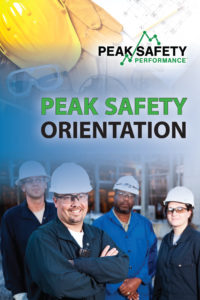 Fourteen plants in the Upstate recognize the standard 

Peak Safety Orientation

 is a class we trust!
The class is offered weekly and it is open to the public.  Register here!
The Peak Safety Orientation is an 8-hour safety class designed to provide critical safety information for new employees.  Instructors teach basic OSHA guidelines covered in both 1910 & 1926 standards.
Upon a successful completion of the course, participants receive a Peak Safety Orientation Badge and a Peak Safety Handbook. The Peak Safety Orientation is valid for 1 year.  Peak Safety offers an annual refresher course to update the card.
TOPICS
Safety Culture & Responsibility
SAFE STEPS
OSHA Focus 4
Pre-Plan Your Work
Hazard Communications (GHS)
PPE
Respirator Safety
Working Surfaces
Ladder Safety
Fall Prevention & Elevated Work
Scaffolding Safety
Electrical Safety
Guarding
Lockout Tagout
Confined Space
Emergency Response
Fire Prevention
Pedestrian & Equipment Safety
Mobile Equipment
Arial Lifts
Cranes & Hoist
Rigging
Trenching & Excavation
Welding & Cutting
Hand Tools
General Safety
FOLLOW OUR PROGRESS ON FACEBOOK.  CLICK HERE TO LIKE OUR PAGE.