Workplace Safety Topics Library Click Here
Workplace Safety topics before every meeting will make an impression.  While I worked at Fluor, I helped lead a corporate initiative to attain OSHA's Voluntary Protection Program (VPP) Corporate Star status.  When the federal OSHA VPP assessment team spent the week at our corporate office in Greenville, South Carolina, they interviewed a lot of people.  One of the main questions they asked was, "Can you give examples of how Fluor demonstrates a strong safety culture?"  There was one overwhelming response that was consistent in the interviews.  Employees described how Fluor started every meeting with three or more people with a safety topic.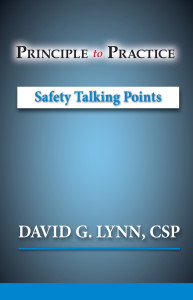 Pocket Guide Topics Available Here.
When the OSHA representatives first told me that was the overwhelming answer they received in their interviews, I was initially disappointed.  I thought to myself we do SO many things to promote our safety culture and the one thing people remember most is a safety topic before meetings?  I was puzzled why that made such an impression.  Don't get me wrong, the safety topics before each meeting are vital to build the culture but what made the process so impressionable?  After a lot of reflection, I came to the conclusion that Fluor had created a cultural "icon".  No matter where you went around the world, Fluor employees were accustomed to having a safety topic before each meeting.  It was a universal process that communicated more than just content.  The commitment to incorporate safety into thousands of meetings around the world made a cultural impression on Fluor employees.  Safety is important!
Your company has an opportunity to create a safety "icon" with workplace safety topics.  The key is to integrate your message into the daily life of every employee.  This Principle to Practice Safety Talking Points book gives you the quick and easy content for your message.  You will find this little pocket-sized book a great help to you in expanding – or reinforcing – your safety and health knowledge base.  I am confident that it will assist you in identifying the good and the not-so-good conditions and activities at your site.
The workplace safety topics in this book are not an all-inclusive list of OSHA or State-Plan State standards, regulations or requirements; but I have provided for you an abbreviated list of items to talk about and utilize during a site walkthroughs.  Take this pocket-sized book with you – put it in your pocket every time you go out of your office; I'll bet you will find that you won't want to go anywhere on your site without it!
AND if you find this book helpful, I'll bet your colleagues will find it helpful too.  So buy one for each of your line managers and supervisors.  This book will HELP YOU HELP YOUR SITE improve your safety & health program.
The safety talking points provide good information to keep your employees safe.  I have also included safety management suggestions for leading and applying the talking points in your work environment.  The following tips are important to line and top managers who are successful safety & health "leaders."
TEN TIPS FOR MAKING YOUR TALK MEMORABLE
Don't read the talking points. Know the subject and speak with your own voice.
Show people examples; pictures, videos, site specific props, or point them out.
Make the topic vivid with a story – Share a personal example of how the topic applies.
Talk about positive examples of the application of the talking points.
Help people visualize the consequences. Share examples of related injuries.
Create "triggers" that will prompt people to think about the topics throughout the day.
Use humor in your discussion; use pictures, videos, etc.
Your job is to get people to imagine, think, & feel the value of the talking points.
Be interesting. Your audience will not forgive being boring.
Make people think with good questions.
For more information on how to improve your safety culture by introducing proven injury prevention techniques, click here.