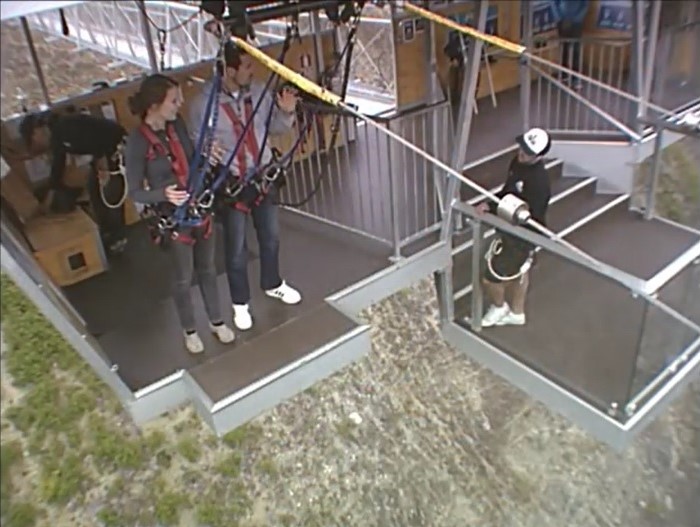 Risk or Reward?
The World's Largest Swing in New Zealand
Check out this video.
Go ahead and admit it.  There is a part of you that wonders what it would feel like to take that risk.  There is another part of you that says there is not enough money in the world that could persuade you to do that.
Which side of the debate in your mind wins?  Risk or Reward?
The World's Largest Swing is an extreme example of the risk people are willing to take.  If something went wrong, you would die.  BUT, many people in the work environment today are willing to take extreme risk as well.  The risk they are willing to take can have the same outcome… DEATH.
In the work world, which side of the debate wins?  The outcome can be the exact same as the negative outcome on the worlds largest swing.  Do we treat the work risk with the same respect?
Better yet, how do you influence yourself and others to make the safe choice?
Here are a few reasons people will take chances.  What would you add to the list?
They trust the equipment.
They feel the risk is worth the reward.
They think they are fully capable.
They get value out of it.
They follow someone's example.
There are many other reasons why people take chances in the workplace.  Leaders utilize tools & techniques that will influence people to make the safe choice.
Peak Safety offers a practical class that follows this line of thought:
We discuss why people take chances.  This is a starting point that allows us to understand what we are dealing with when it comes to risk perception and tolerance.
We teach people individual tools and techniques to evaluate their next steps so that they can make safe choices.
We teach Supervisors tools and techniques that influence risk perception and risk tolerance.
It is not enough just to acknowledge why we take risk.  We have to take the next step to influence safe choices.
If you are interested in hosting one of our Safety Leadership Classes for Risk Perception, contact David Lynn.  We would be glad to partner with you to build a safer workplace.  Click here for more resources.